We provide VMEdu globally recognised certifications
As a pioneer in Scrum/Agile, SCRUMstudy™ has been awarded several prominent trademarks and copyrights by United States Patents and Trademark Office (USPTO) and United States Copyright Office.

Biggest accreditation body for Scrum and Agile certifications
SCRUMstudy™ has overtaken Scrum Alliance and Scrum.org to become the biggest accreditation body for Scrum and Agile certifications.

Students from 7,500+ companies in 150+ countries
Industry-wide acceptance
The knowledge gained by getting a SCRUMstudy™
certification is universal
in its application and has been applied by organizations in
diverse projects spanning
an eclectic mix of industries.
Teaching methodology
SCRUMstudy™ A.T.P.s use a scientifically proven and highly
interactive teaching
methodology
including role-plays, case studies, and simulations
explaining the key Scrum concepts for their Agile and Scrum certification courses.
Free "Scrum Fundamentals Certified" - SFC™ Course
differences between Scrum and traditional project management
Why scrum?
differences between Scrum and traditional project management
Scrum vs. Traditional Project Management
SCRUM
Scrum encourages data-based, iterative decision making in which the primary focus is on delivering products that satisfy customer requirements. Promotes prioritization and Time-boxing over fixing the scope
Emphasis is on:

People

Documentation:

Minimal

Process style:

Iterative

Upfront planning:

Low

Quality assurance:

Customer centric

Management style:

Decentralized
Traditional Project Management
Emphasizes on conducting detailed upfront planning for the project with higher priority for fixing the scope, cost and schedule  - and managing those parameters.
emphasis is on:

Processes

documentation:

Comprehensive

process style:

Linear

upfront planning:

High

quality assurance:

Process centric

management style

: Centralized
OUR SERVICES
get Scrum Certifications
Why get certified in SCRUM
Scrum is one of the most popular Agile methodologies. It is an adaptive, iterative, fast, flexible, and effective methodology designed to deliver significant value quickly and throughout a project. Scrum ensures transparency in communication and creates an environment of collective accountability and continuous progress. A key strength of Scrum lies in its use of cross-functional, self-organized, and empowered teams who divide their work into short, concentrated work cycles called Sprints.

differences between Scrum and traditional project management
Discover our Certification Hierarchy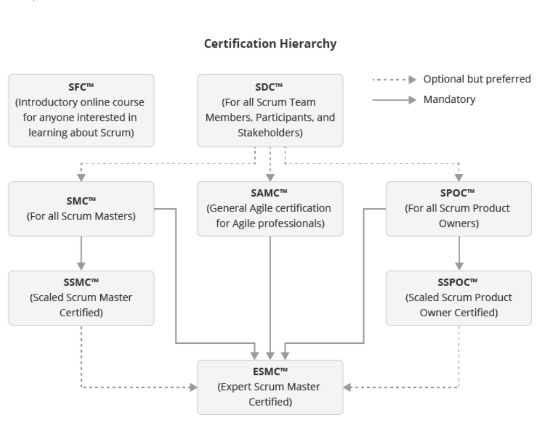 CERTIFICATION HIERARCHY
Though there is no mandatory prerequisite for most of the SCRUMstudy™ certifications, it is always better to understand the hierarchy structure. The diagram below shows you what is the preferred as well as optional certification to move to the next level.

Our services
discover our free services
Get free
certifications
Scrum Fundamentals Certified' course is tailored to help anyone interested to know more about Scrum; learn about key concepts in Scrum as defined in the SBOK® Guide.  You will get a basic understanding. 
download free
SBOK® Guide e-book
The industry standard for Scrum and Agile. Provides a framework for the successful implementation of Scrum and Agile, to any project of any size or complexity